How to Import PST to Thunderbird? Get Solution Here!
Finding a solution "how to import PST to Thunderbird"? If yes, then read the entire guide mentioned below and easily import bulk files without imposing any kind of limitations.
As we all know, MS Outlook is one of the most widely used email clients worldwide. Most Business organizations use this as a primary emailing service to manage their emails, notes, calendars, and events. It exports its data in the form of PST format that stores the entire mailbox items correctly in a well-managed format. Multiple situations happen when a user wants to import multiple PST files to Thunderbird without Outlook. So, this may be a difficult task for users. Don't worry we are here, to resolve all your queries.
If we talk about Thunderbird then it is a well-known Email client that is open-source and a personal information manager that manages multiple email accounts including their emails, contacts, and other data items. Multiple reasons push users to switch to Thunderbird may be due to security features or other functionalities.
User Query
"Hello! I have a backup of a Microsoft Outlook account in PST file format. I am trying to open it but, I am unable to access emails. Right now, I am also using Thunderbird account, so thinking to import all those PST files in Thunderbird Account.
I have tried a lot importing the data but can't find the actual solution. I am really worried about my email message. Please help me to find a suitable approach!"
Why Do Users Import PST File to Thunderbird?
In today's modern era, numerous email applications are available in the market. Users can select any of them according to their needs. But, for several reasons, the user wants to move into Thunderbird. Here, we try to describe some reasons for importing the data.
Outlook is a paid emailing service while Thunderbird is an open-source and free email application.
It's necessary to have some technical skills for utilizing all features of the PST file. Whereas, Thunderbird does not require any technicalities.
Thunderbird is an open-source desktop-based email application. It can easily work on multiple platforms like Windows, Mac, and Linux operating systems.
Furthermore, Thunderbird uses the .mbox file format to save data, which is supported by many email clients like Windows Live Mail, Outlook Express, Apple Mail, Entourage, emClient, etc.
Importing PST to Thunderbird – Manual Solution
In the manual solution, users need to use a Gmail account to import multiple files to Mozilla Thunderbird. Let's understand the process:
Log in to your Gmail Account. Go to Settings >> Forwarding and POP/IMAP >> Enable IMAP and save the changes.
Then, open Microsoft Outlook. Go to File Menu >> Add Account >> Enter the Gmail login credentials.
Then, create a new folder. In the new folder, copy all the Outlook emails that you want to import.
After that, use Google Takeout Settings and import the needed data from Google Mail.
From the list of options, choose the Mail option. And, select labels to select the new folder that contains Outlook emails and Next.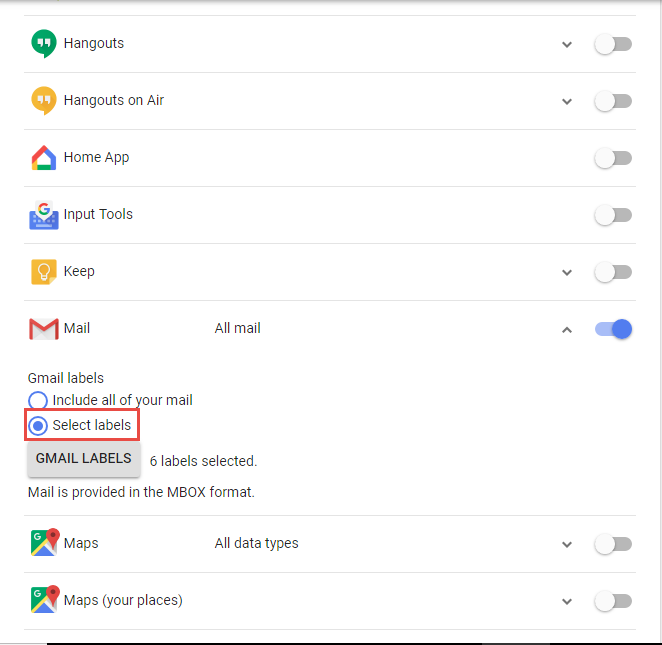 Choose the file type, archive file size, and delivery method. Then, click on Create Archive button to import the data.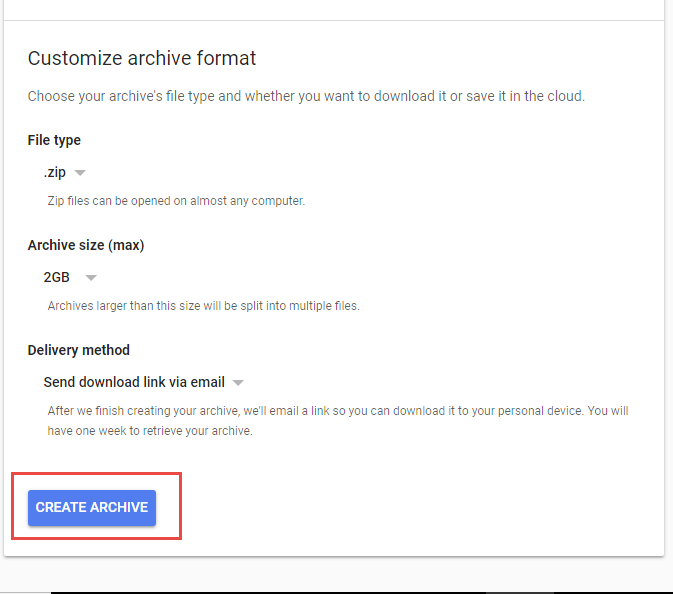 After that, you will get the .zip file that contains the exported data in the MBOX format.
Now, just import MBOX to Thunderbird using the ImportExportTools NG.
Therefore, the method is tough to use but gives you the desired results. And, still, if you are having any kind of doubt, you can continue with the next solution to save your time and effort.
Instant Solution to Import PST to Thunderbird
We recommend you use the PST File Converter developed by PCDOTS team experts. The tool is an effective solution that allows users to import files to Thunderbird without Outlook and without imposing any kind of size limitations. While importing emails, it also includes attachments and the needed data items with no loss of data.
This File converter has a flexible graphical user interface that allows both technical as well as non-technical users to operate the software. Also, it does not require any kind of extra installation as it is an independent utility and works without the need for any other technical guidance. Therefore, without wasting your time, just free download the PST to Thunderbird Converter and initiate the process.

Steps to Import PST to Thunderbird Without Outlook
Run the software successfully on your Windows OS system. Click on the Open Menu and select PST files from Email Data files.
Upload the data and Choose the required number of emails.
Go to Export Menu and Select Thunderbird Email Client.
After that, enter Destination and finally get the Output results.
So, this is the complete process to import PST files to Thunderbird Account instantly in bulk within a single attempt.
Features of PST to Thunderbird Converter
The PST to Thunderbird Converter allows users extraction of multiple email elements such as PST email addresses, and PST phone numbers, and extract attachments from PST files separately.
Users can easily do bulk migration of files into Mozilla Thunderbird Account with no data loss and any kind of interruption.
Also, it can search for a specific number of emails from the unlimited data on the software panel.
This utility allows users to transfer the data in different formats such as PST to PDF, PST to MBOX file, PST to EML file, PST to HTML file, PST to CSV file, convert PST Contacts to vCard and other Email Services such as PST to Gmail, PST files to Office 365, and other PST to IMAP Accounts. 
Other Advanced options include email headers, restoring old folders, deleting empty folders, and skipped out grey folders, and others.
Work on all the versions of Windows OS such as Windows 7, 8, 10, 11, Vista, and XP, and all other 32-bit and 64-bit Windows OS.
Also Read: Import PST Files to Apple Mail
Simple Steps – Import Outlook PST Files to Thunderbird

Run the PST to Thunderbird Converter.
Upload PST files from the system.
Select the required data.
Go to Export >> select Thunderbird.
Enter the location and save.
Get the resultant message.
Conclusion
At last, I want to say that this above mention software is one of the best and most reliable solutions to import PST to Thunderbird. The software supports the direct importing of files without using Outlook. Moreover, users even from non-technical backgrounds can work on this Converter without the need for any kind of technical guidance. And, you can also use the Demo version of this Converter which allows you to import 10 items from each folder at once. And, once you get satisfied, you can continue with the Licensed version.