2 Solutions for Importing MBOX Files to Mozilla Thunderbird
Would you like to import MBOX to Thunderbird account in even the most efficient way? Do you want a simple method of importing many files? If this is the case, then this blog is for you. In short, we will correctly guide you and explain the correct solution that will provide you with the desired and accurate findings.
MBOX files are basically an email mailbox that stores multiple email messages, attachments, and other data items in a single file storage format. It is been supported by multiple email applications and is one of the friendly file formats. Mozilla Thunderbird is a free open-source email client with a lot more features and functionality which is also very easy to use and customize. It works as a personal information manager and enhances the mailbox structure.
There are multiple Email Clients who are using the .mbox file format and Thunderbird is one of them. In this blog, we will discuss both the manual as well as a pro solution for conversion of MBOX files to Thunderbird Email Client.
"The main benefit of using an MBOX file is that it preserves data integrity and does not cause any interruption. However, it is possible that importing files from one email client to another will result in data loss and disturbance. That's why users require a professional solution in order for it to work properly."
User Query
"I've always used Gmail for approximately 7-8 years and now wish to switch to Thunderbird Email Client to take full advantage of more features. I had already exported the entire data into MBOX files and tried to import them to Thunderbird to use a variety of techniques, but none of them was effective.
Is there anyone who might help me in finding the correct answer?"
Solutions to Import MBOX Files to Thunderbird
Manually Import MBOX to Mozilla Thunderbird
In this manual solution, users just need to import multiple files directly into Thunderbird using one of the add-ons called ImportExportTools NG. In addition, it is easy to use and will easily import the entire data.
Limitation of Manual Solution:
Will take more time and effort.
Does not include attachments.
Do not include Email Headers.
Steps to Import Bulk Files to Thunderbird:
Open the Thunderbird Application. Go to Menu >> Select Add-ons.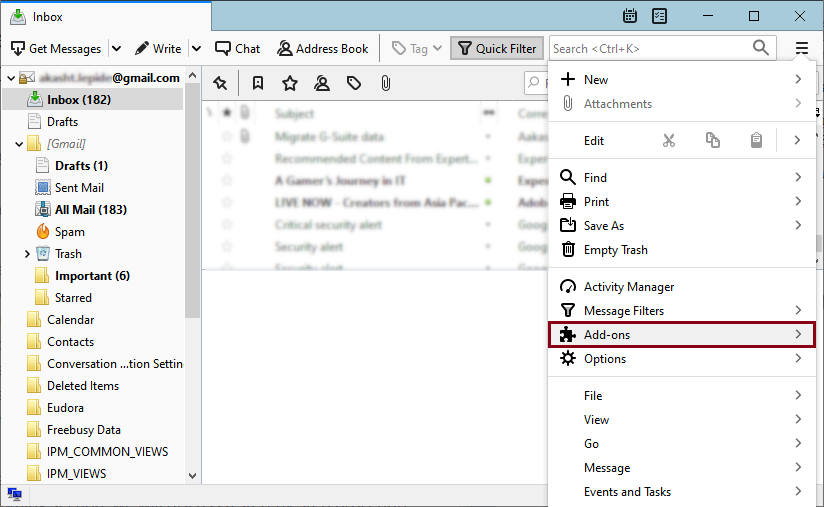 Search for ImportExportTools NG and Add to Thunderbird.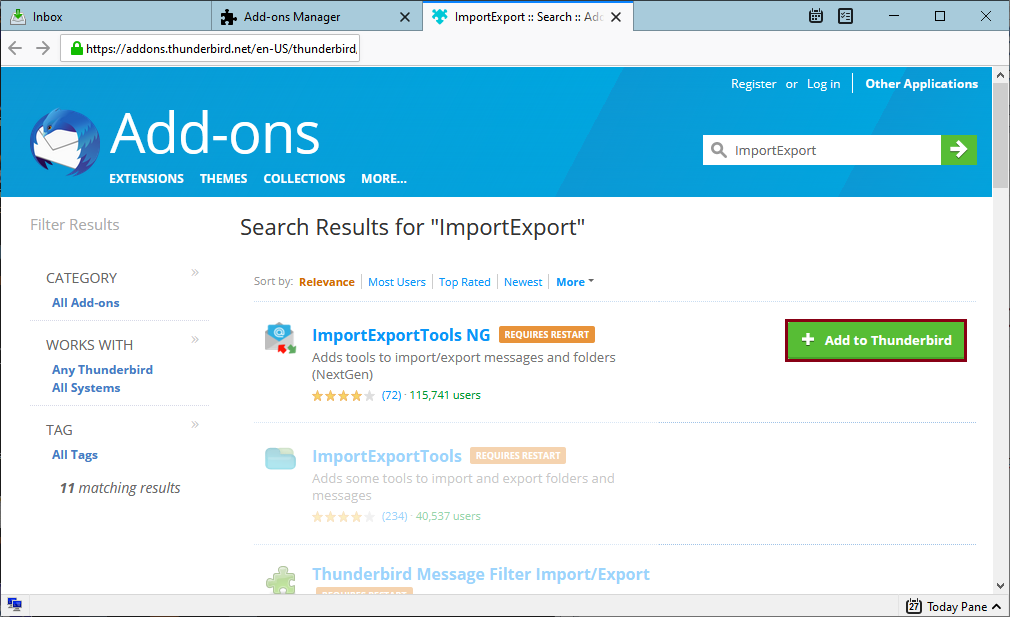 Click on a particular folder and Right click >> Import MBOX file.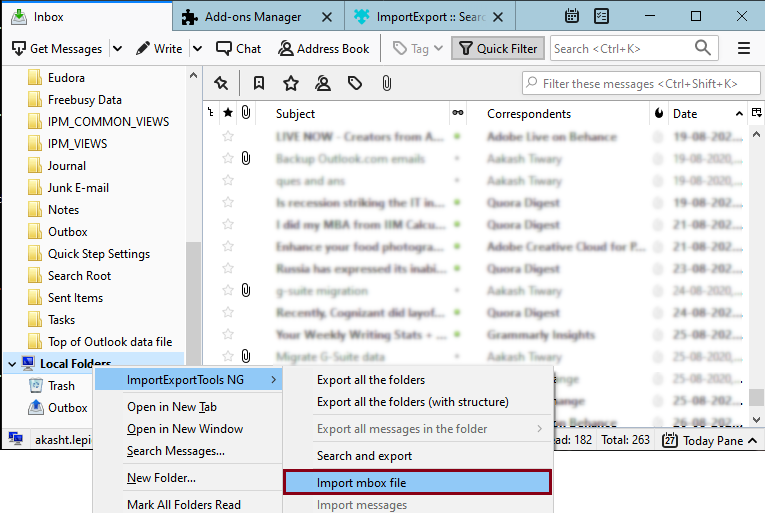 Select "Import directly one or more mbox files" and OK.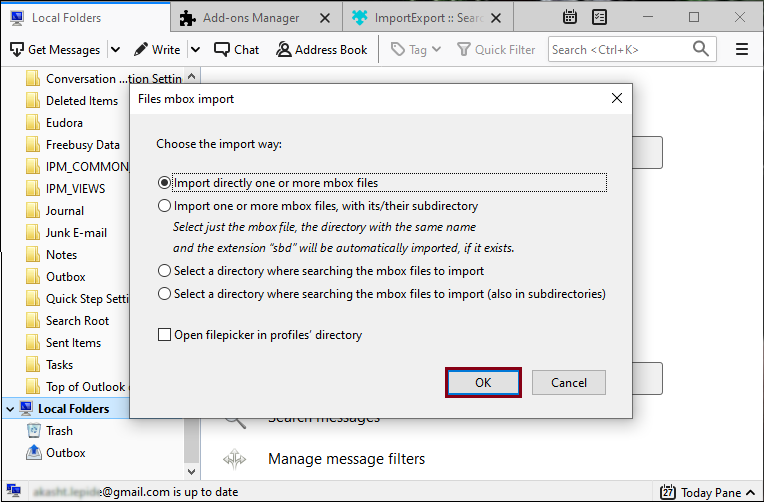 Choose an MBOX file from the system and it will directly upload to the Thunderbird folder.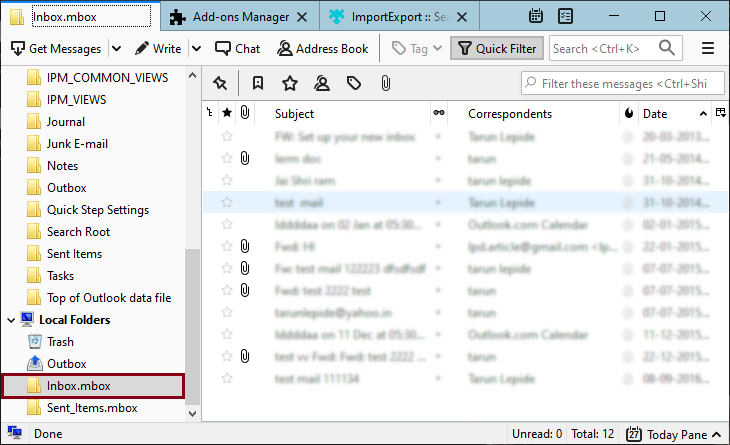 Professional Solution to Import Multiple Files
To clarify, there are multiple manual solutions available on the Internet and the methods described above are one of them. But we all want accurate and desired results for our queries. So, I suggest you continue with one of the accurate methods if you want accuracy. You need to download MBOX File Converter to import multiple or even endless files to the Thunderbird Email Client. The software is one of the perfect solutions which will give its users 100% desired results.
This Import Tool can easily export the data in multiple other file formats and Email Services. And, has the ability to extract email elements such as MBOX attachments, MBOX email addresses, and MBOX phone numbers individually. Additionally, it also supports 20+ formats including file formats and Email Services such as MBOX to PDF, MBOX to PST, MBOX to EML, MBOX to HTML, MBOX to Office 365, MBOX to Gmail, and other MBOX to IMAP Accounts.
The software allows users to upload the data either by choosing files or folders and it is possible to view MBOX files in multiple view modes that can also be used for forensic investigation purposes.


Steps to Import Multiple MBOX Files to Thunderbird:
Firstly, run the mentioned utility on your Windows OS system. Secondly, click on the Open Menu >> Email data files >> MBOX files.
Upload either files/folders from the system and see the detailed preview. Select the emails according to your needs and requirements.
Then, tap on the Export button and select Thunderbird as the Email Client.
Browse the location where you want to store your data and click on the Save button.
After that, the process will be done shortly, it will show a "successfully prompted message" on the software screen.
Hence, by performing these simple steps, users can easily import multiple files directly to Mozilla Thunderbird Account.
Also Read: 
In a Trial
However, the Demo version will import the first 10 emails within a single attempt. But, if you want to do the task for professional use then you must continue with the Licensed version. It enables you to export the complete mailbox within a single operation. It will increase its performance day by day.
Frequently Asked Questions
Ques1. How to import multiple MBOX files directly to Thunderbird?
1. Run the mentioned Import Tool.
2. Upload the MBOX files.
3. Select the required data.
4. Go to Export >> Select Thunderbird.
5. Get the resultant data.
Ques2. Is it possible to use the utility on the Mac OS system?
No, the software will not work on Mac OS and only supports all the versions of Windows OS.
Ques3. Can I import emails along with attachments together from MBOX to Thunderbird?
Yes, the software possesses a direct feature to import the data including attachments within a single attempt.
Ques4. Can i use the tool to import MBOX files into any cloud accounts?
Yes, you may use the tool to import MBOX files to any IMAP accounts. With the aid of the tool, you may import MBOX files to Yahoo Mail, Import MBOX Files to ProtonMail and more.
In Conclusion
As a result, we explained the proper steps for both the manual as well as the professional solution. However, it depends on the users to use either one of them to import MBOX files to Thunderbird. On the other hand, while continuing with the manual solution, I recommend you to understand the limitations first, and if you have any doubt, then you must carry on with the professional solution.