Secure Solution to Export Zimbra Emails to Outlook PST Format
Do you need an expert solution to export Zimbra to PST? Then great, you are the perfect place. In this blog, we will discuss a proper solution to migrate the entire data properly. Also, you will get a 100% sure solution to import the data in different versions of Outlook such as Outlook 2019, 2013, and all the previous as well as latest versions of Outlook.
We all know that Zimbra is a popular email client that has a good interface and can easily maintain multiple accounts. Furthermore, it has been effectively used by professional persons and can easily handle multiple accounts in a single time interval. Also, to work in Zimbra, a person requires a lot of technical knowledge.
On the other side, the PST file format is one of the portable file formats that store the entire mailbox and other data items properly in an organized manner and is compatible with different platforms such as Exchange and Outlook for Windows.
And, also we have received multiple queries for the conversion of Zimbra emails to PST. So finally, we are here today to migrate the data properly using the two perfect steps.
User Query to Export Zimbra Mailbox to PST
"Hi, my company has been working on Zimbra Email Client to manage our business communication for last 3 years. But now we are growing upward and thinking to move to another Email Service that has the ability to manage our entire data in a proper well-organized manner. And, after searching a lot we have finally decided to move to Outlook Application and before that, we need to save the backup of the entire data in the PST file format. So, can you guide me a better Zimbra Mailbox to PST Converter for solving the tasks?"
Step 1: Export Zimbra TGZ Files Manually
Here, we will directly export the data in the form of TGZ files using the Zimbra Email Server. Using TGZ files, it becomes possible to import the data to PST. 
Steps:
Open Zimbra Email Desktop Application on your system.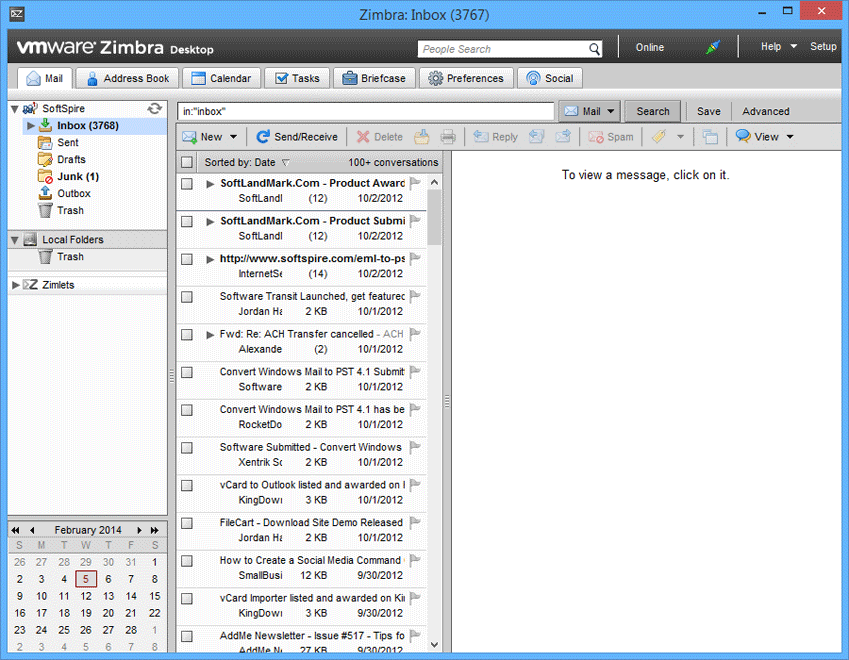 Click on the Preference tab on the top of the screen.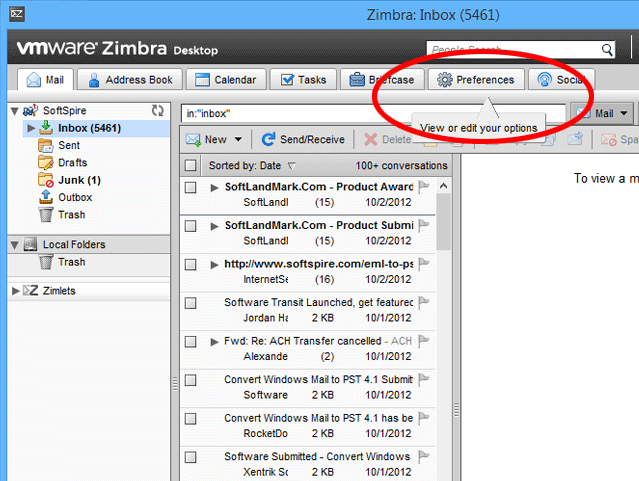 Choose the Import/Export option.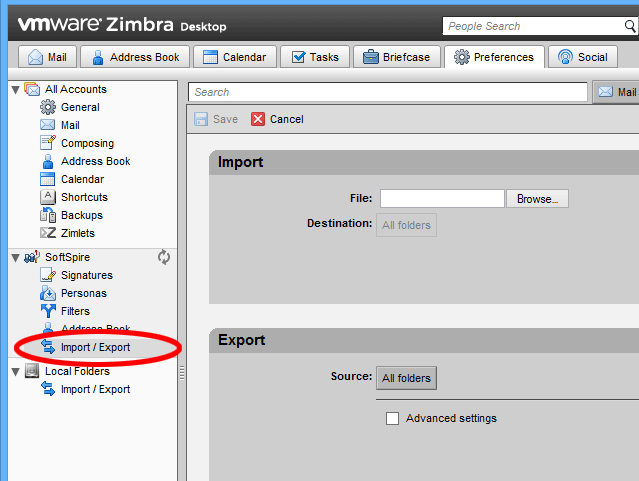 Go to the Advanced Settings and choose the data that you want to export.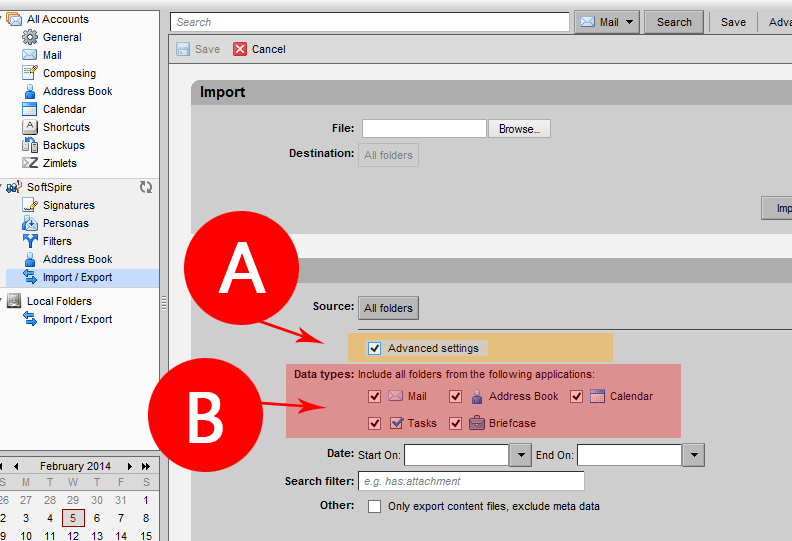 A window will appear on the screen which help you to save your Zimbra TGZ file on the screen in a particular location. Click on Save File.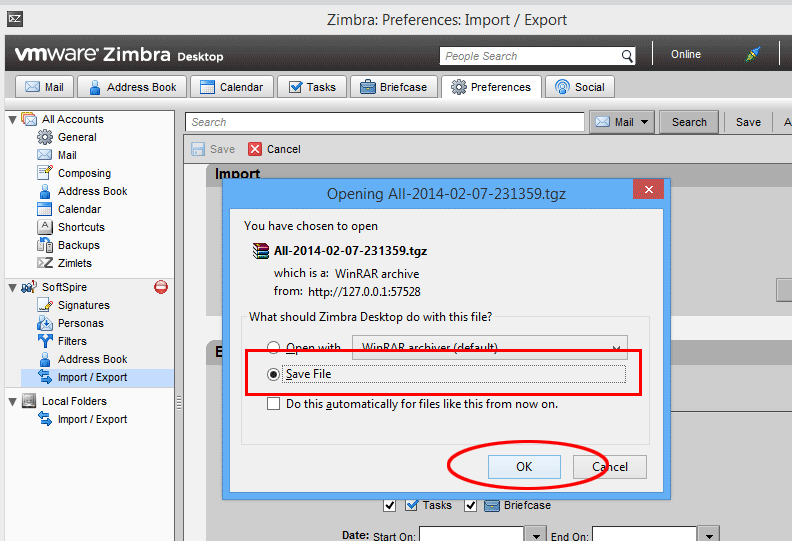 Select the TGZ file and extract the folder.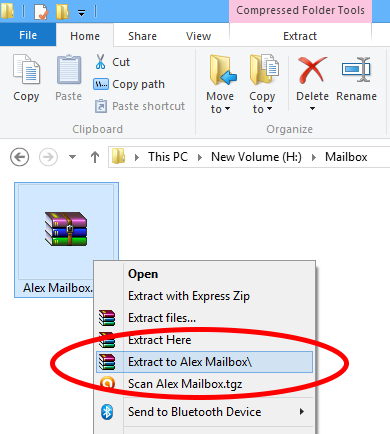 After you unzip that, you will get the folder with the same name, click on the OK button.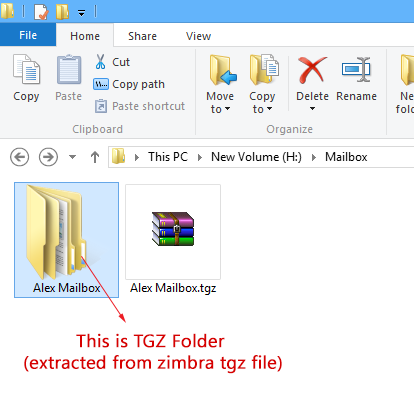 Step 2: Perfect Guide for Conversion of Zimbra Files to PST
We recommend you use Zimbra Mail Converter, given by PCDOTS to export the data directly without using the Outlook Application. The utility can easily migrate the data including email attachments and other data items according to the needs and requirements of the users.
Also, this Zimbra to PST Converter has been made up of a special algorithm and it is been used by most professionals to carry out the results. Without wasting your time, just download the converter for free and initiate the process.
In addition, here we use exported TGZ files and can easily migrate the data to a PST file format.

Simple Steps to Export Zimbra to PST

Run the mentioned utility.
Upload the required TGZ files.
Select the needed data.
Go to Export >> Select PST.
Get the resultant PST files.
Step-By-Step Procedure to Export Zimbra Emails to PST
Firstly, launch the Converter in your existing system. Go to the Open Menu >> select Email Servers >>

Upload the TGZ file

by choosing the appropriate option.
See the detailed preview of all the Zimbra files on the screen. Choose the required TGZ data that you want to convert to PST.
After that, go to Export Menu and

Select PST

as the file format.
Enter the

destination and click on Save.

You can also choose to include email headers, restore old folders and delete empty folders according to your needs and requirements.
After that, wait for a couple of minutes and you will be able to see the

final prompted message

on the screen.
Therefore, by performing these simple steps, users can easily do the conversion of Zimbra emails and other data items to PST file format without using the Outlook Application.
Aspects of Zimbra Emails to PST Converter
 

Uploa

d Bulk of Data




Users can upload numerous files in the Software panel without facing any kind of issues. And, after scanning the actual structure of all the files and folders will be maintained throughout the conversion process.

Save Meta Elements


Users can be able to extract Zimbra Email Attachments, Email Addresses, and Phone numbers separately. Email Addresses and phone numbers will be carried out in the form of Text files format.

Different View Modes




By clicking on a particular email, users can be able to view the data in

multiple different modes

such as Hex View, Properties View, Content View, and others. Basically, these view modes can be used for Email Forensics purposes. And, by viewing the data in a proper manner, users can also deselect a particular email.

Other Advanced Option




This Zimbra to PST Converter allows users to export extra data items at the end of the conversion process such as including email headers, restoring old folders, deleting empty folders, and so on. And, provides an extra file naming option to name the resultant files such as From-Subject, Year-Month-Day-Time-Second, etc.

Windows Compatibility




This utility supports multiple versions of Windows and can easily run on different versions of Outlook such as Windows 7, 8, 10, Windows Vista, and Windows XP. Also, it does not require any kind of extra installation to continue with the Outlook PST conversion process.

Compatible with different formats
It is possible to export Zimbra emails to other formats such as Zimbra to PDF, Zimbra to EMl, export Zimbra contacts to CSV, and in other Email Services such as Zimbra to Gmail, Zimbra to Office 365, Zimbra to Thunderbird, and Zimbra to New Server. 
In Conclusion
Thus, a user from a non-tech background can easily export Zimbra to PST files using the above-mentioned solution. This is one of the easiest solutions present over the Internet without imposing any kind of size limitations. Also, I recommend you continue with this solution so that it will take you less time and effort. For any query, you can connect without a technical team.