Export Gmail Emails to PST File – An Effective Way
Are you finding a way to export Gmail to PST format? Then, no need to worry, just proceed with this blog. Here, we will discuss a reliable and direct solution to export emails to PST without installing the Microsoft Outlook Application.
There are multiple solutions for this query but still, users are facing many types of issues while importing data in the Outlook application as they are not getting a perfect solution that will give them desirable results.
Furthermore, we had also received multiple user queries to export Gmail to PST without any extra installation.
User Queries
User Query 1: "Hi, I am using my Gmail Account for the last 4 years and now I have around more than 70,000 items stored in my Gmail I had transferred around 9,000 items in PST files using Outlook Application but nothing has been shown there. Is there any other method to import Gmail data in PST format in bulk instantly?"
User Query 2: "My organization has been using Gmail Account for 10 years but now to have more security issues and features, we have decided to migrate to Outlook Application. And there is unlimited data present on the Gmail Account and those are very important emails. I had tried multiple solutions but didn't get the proper results. And now, I have no idea how to export the Gmail mailbox to PST. Can somebody help me to for the same?"
Why do Users Export Gmail to PST?
Due to incorporating rules in Gmail, they are unable to use Gmail.
Some people believe that Outlook has good user interface than Gmail.
Gmail imposes multiple bugs and different limitations as compared to Outlook.
Other than these, there are also multiple reasons for people to export the data. That's why we have made this blog to solve the problems of multiple users.
How to Export Gmail Email to PST Format?
We recommend you continue with the Gmail Converter to export multiple emails to PST format without using Outlook. The software is one the effective solution that does not require any other installation. It can easily export Gmail emails to PST with attachments without imposing any limitations and will give 100% desired and accurate results.
The Gmail to PST Export tool allows users to export unlimited items directly in just a single attempt. And, can locate an email from an unlimited number of data using the advanced filtrate option. Download the mentioned Export tool for free of cost and run the conversion.

Export Gmail Data to PST – Complete Steps
Firstly, launch the export tool on your Windows OS system and run it successfully.
Choose Open Menu and Add Account by clicking on Email Accounts.
Enter the correct login credentials of your Gmail Account and Add.
Users will be able to view the data and Select the required emails from them that they want to import.
After that, click on Export and select PST as the file format from the drop-down list.
Enter the destination location where you want to save your exported PST data and click on Save.
Then, in just a few seconds, you can be able to see the exported message on the screen.

Hence, using the steps mentioned above, users can export the entire Gmail account data to PST without facing any kind of issues.
Characteristics of Gmail to PST Export Tool
This given Software can migrate numerous data without any kind of data loss.
Allows importing the data along with including Email Attachments.
Users can have the potential to include email headers, and delete empty folders by using extra exported options at the end of the conversion process.
It is possible to search for specific data from the Entire Mailbox items easily.
The software can easily Migrate Gmail Mailbox to PST format without installing Outlook.
Easy to Extract Email Elements such as extract Gmail attachments, extract Gmail email addresses, and Gmail address book separately using Gmail to PST Migration tool.
This Gmail to PST Export tool can easily transfer the data in multiple file formats such as Gmail to PDF, MBOX files, Gmail to CSV, EML files, and in other Email Services such as Gmail to Thunderbird, Gmail to Office 365, and other IMAP Accounts.
It also works as an email backup tool that allows users to backup Gmail data instantly.
Also Read, 
Export Gmail to PST Manually
Here, in the manual solution, we will export entire mailbox data to PST using Outlook Email Client. Just follow the below-mentioned steps and carry out the migration:
Run Outlook in your system.
Configure your Gmail account there.
Choose the Import/Export option using the File Menu.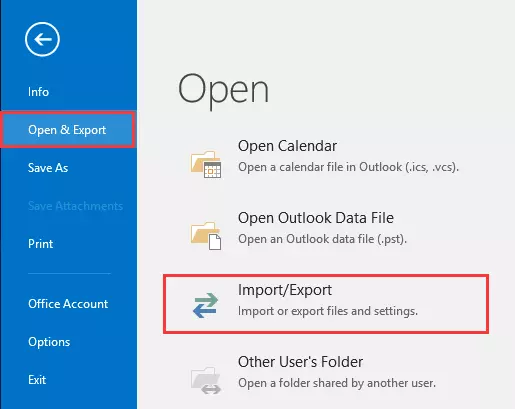 After that, select the option "Export to a File" from the list.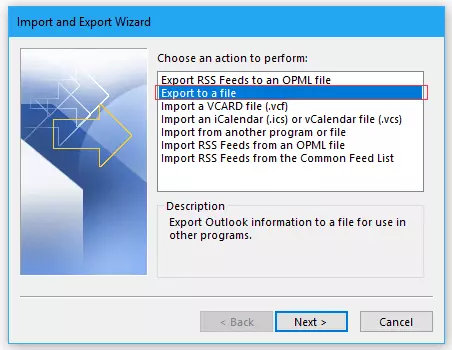 Select "Outlook Data File (.pst)" and Next.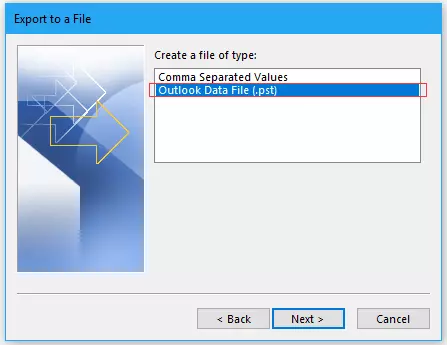 Tap on the account from where you want to export the data.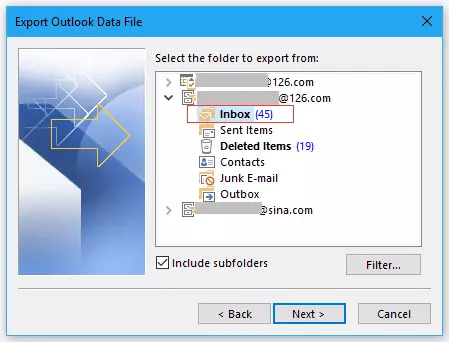 Hence, by performing these steps, you can export the emails to PST but you need to have a lot of technical knowledge. And, there may be a loss of some amount of data.
Frequently Asked Questions
How to export Gmail emails to PST File?
1. Run the export tool in your system.
2. Configure your Gmail account in the software.
3. Select the required data from them.
4. Go to Export Menu >> select PST.
5. Get the resultant data.
I want to switch to an Outlook account. Is it possible to move from Gmail to PST using this utility?
Yes, you can easily migrate your entire data to PST and easily import them into Outlook.
How many emails with attachments can be exported at once?
You can easily migrate an unlimited number of emails including attachments using this software.
In Conclusion
At last, it is one of the perfect solutions to export Gmail to PST without Outlook just within a few clicks. The Software can migrate the bulk of data including the corrupted files according to the user's preference. Trust Me! This mentioned migration tool is one of the easiest tools among other software present on the Internet. I recommend you to use this solution to export multiple data in a just attempt.