Mailbird Has Stopped Working – How to Recover Emails & Contacts
If your Mailbird has stopped working and it is not sending and receiving emails. Then after reading this online tutorial, anyone can easily recover emails & contacts from crashed Mailbird profiles. If your Mailbird not sending emails then first you need to do some basic settings. After that, even if you are unable to reset Mailbird then you can recover all emails and contacts from Mailbird and store them into standard formats. Before providing you some suggestions, first read some user's queries.
Know actual problem

Hi, I am using Mailbird email client for sending and receiving email messages from past few years. But yesterday my Mailbird has stopped working and now I am unable to do any communication using Mailbird. I needed to print some of Mailbird emails but now Mailbird not printing. Please suggest me a professional method to reset Mailbird account, I don't want to lose my old emails and contacts permanently.

– Julian, Florida

I am using Mailbird desktop-based email client since 2017. Now my Mailbird not sending mail to other email id and I am in trouble. But now I don't know what I can do to reset Mailbird profile. I think my Mailbird email client got crashed due to virus attack on my computer therefore Mailbird has stopped working. Please recommend me a well-suitable available method to recover my all emails and address book contacts in reusable file extensions.

– Antony, California
Some possible reasons for Mailbird Crashing
There are several reasons available to crash Mailbird profile. Here I PCDOTS team is mentioning some most common reasons. May be because of mentioned reasons Mailbird will not start in proper way.
Virus attack on computer.
Power failure and wrong shutdown.
Deleted system files accidently.
Hard drive damage or failure.
Human errors.
Software corruption.
Some basic settings to reset Mailbird
You can edit Mailbird profile settings again and check for wrong information i.e. Server Type, Server Name, Encryption, Username, Password, Connections, etc.
Non-Gmail users can check 2 steps authentication, it should be turned off for sending and receiving email messages using Mailbird email program.
If you are using Google Mail (Gmail or G Suite) with Mailbird email client. Then less secure apps verification should be on otherwise Mailbird won't start in a proper way.
Sometimes security software block sending and receiving email messages. In this situation, you need to add an exception for your Mailbird email client in your security software.
Recover Mailbird emails & contacts instantly
Firstly, download PCDOTS Mailbird Converter and install the product setup on your Windows computer. It is 100% authentic software to get back emails and contacts from crashed Mailbird email program. Users can store resultant emails and contacts in multiple commonly used file extensions i.e. EML, MBOX, PST, PDF, HTML, Text, vCard, etc.

1 – Start the tool and choose Open >> Mailbird >> Open Mailbird Configured Accounts >> Your Account.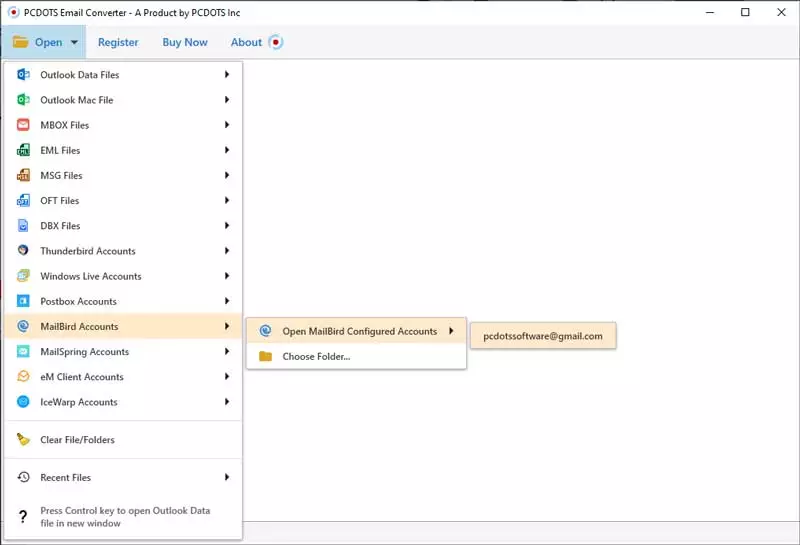 2 – After that, you can preview Mailbird emails and contacts in the software interface. Select Mailbird folders and click on the Extract button. After that choose Email Addresses, Attachments, Phone Numbers, Associated Email & Phone Numbers, and extract them separately.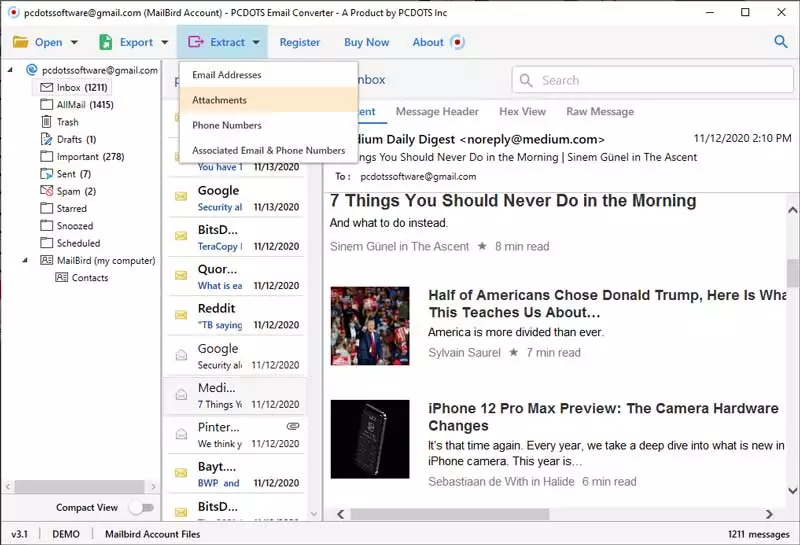 3 – Thereafter, click on the Export button and choose a saving format from available options.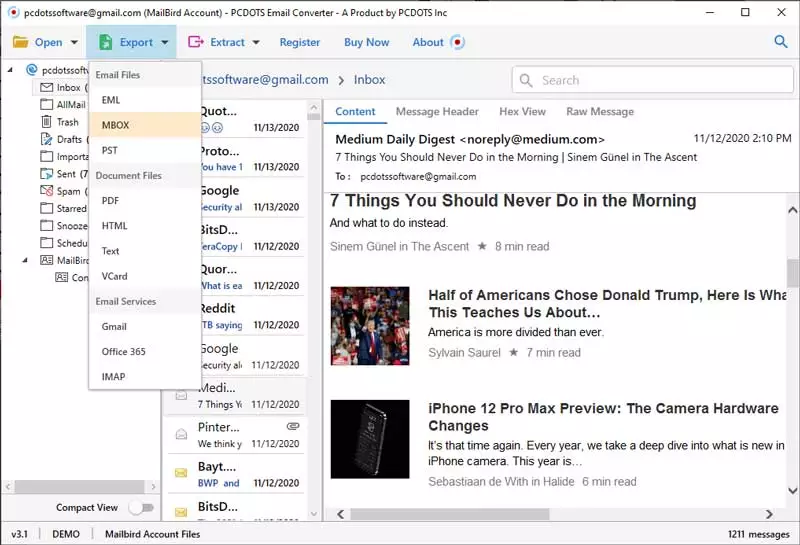 4 – The tool automatically chooses desktop as the destination path but you can click on the Browse button for selecting a specific destination folder. Click on the Save button to start recovering emails from crashed Mailbird profile.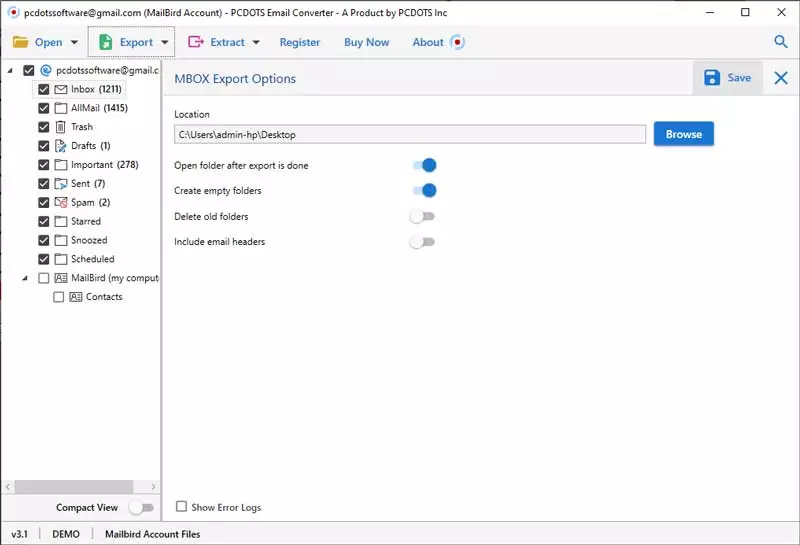 5 – At last, after completion of the task, get resultant data from the selected destination path, and reuse it accordingly.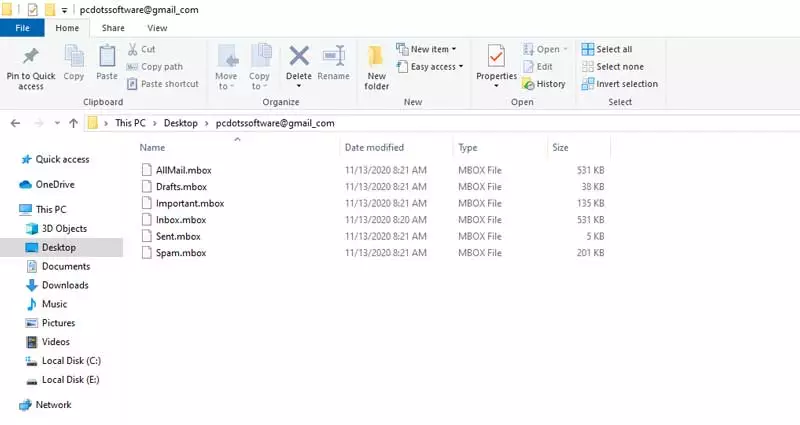 What are the special features of this software ?
If your Mailbird has stopped working then you can proudly use this mentioned software. The tool is designed in such a way that it is capable to upload Mailbird profile data automatically from the default storage location. After that, it says to choose a destination path to store output data with a 100% accurate result.
In case your Mailbird not sending emails and got crashed then it will be a most beneficial toolkit for you. It is helpful to archive Mailbird emails and contacts for future use without resetting the Mailbird profile. Even it provides multiple choices to recover data in the selected generic file extension.
This application offers an isolated option to extract important Mailbird items such as Email Addresses, Attachments, and phone numbers. The tool is helpful for growing the organization's revenue as users can extract email addresses separately for sending marketing emails.
After choosing a saving format from available options, the tool gives freedom to check or uncheck Mailbird profile folders. Therefore the user can choose only desired folders from whole profile data to restore in the standard file extension. It helpful feature as users can avoid the recovery of unnecessary folders.
Manually recover Mailbird data after Mailbird crashing
If you want to restore Mailbird profile data manually then you can get it from the default storage location. Just go to the default storage location and get Mailbird profile data in Store.db database file.
Go to – C:\Users\User Name\AppData\Local\Mailbird\
After getting Mailbird profile data from the default storage location. Users can use this archived backup for the future. Store.db file has all Mailbird emails and contacts along with components.
Limitation – Mailbird Store.db file is also known as a database file that cannot be easily accessed by users. You can consider it as a raw message file that is difficult to use by non-technical users. It is not a standard file so it cannot be directly imported to other email clients.
Final Words
Mailbird has stopped working but nowadays it is not a complicated issue. After reading this write-up, anyone can reset Mailbird profile data accordingly. If your Mailbird not printing then export emails into Adobe PDF documents using the above-mentioned toolkit. If your Mailbird not sending emails then you can check basic settings or export emails in multiple commonly used file extensions.