Learn How to Fix "Gmail Storage Full" Issue? Just in 2 Minutes!
Nowadays, Gmail is a highly recommended email application for communication. It stores every kind of information in your Gmail account. It helps you to send and receive email message without any device dependency. Also, Gmail act like a messenger, where we can talk with others same as WhatsApp, Facebook, Instagram. Sometimes, it shows Gmail storage full not receiving emails error. What will happen, when this error will occur?
Now, the importance of Gmail is such that you cannot open your new phone without a Gmail address. When we talk about the Google, Gmail is the first thing that comes to our mind. Every Google application required an email id which cannot possible without Gmail.  Google always asks for the email address when you open a new phone or a new application. Moreover, Gmail link with your every account, you cannot open any Google application without Gmail id. Google provides only 15GB storage for free to their users. This is the total storage for Drive files, emails, backups, photos, calendar, notes, sheet and many more. It's a very small storage for managing large amount of data. It is a hectic situation for Gmail users.
All that is good, but what happens, when you run into trouble? It is a frustrating situation when you cannot able to access your emails due to Gmail storage full issue. Gmail doesn't provide unlimited storage for storing data. So, if you also suffer with storage full situation?  And you are not able to send or receive email message then go through this article.  Here we explain all possible solution to clear Gmail storage.
There are three ways through which you can free up Gmail space on Google account
1. Professional Approach to Resolve "Gmail Storage Full Issue"
PCDOTS Email Backup software is the highly recommended solution to create backup of your Gmail emails without any extra effort. The software permits users to create backup of your emails in different file format like EML files, PST files, MBOX files along-with its folder structure. Also, the software allows users to import their Gmail data into other email application such as office 365 and IMAP. It saves users time and effort while creating backup of Gmail. After creating backup of email message, you can delete all email message from Gmail account. This process will help you to fix Gmail storage full error.

Steps to Extract Email Addresses to Free up Gmail Space
This process will complete in 2 steps, follow each step carefully:
1. Change Gmail Setting and Enable Less Secure App
Sign in to your Gmail account and click on the Settings.
Now, click on the See All Setting
Choose Forwarding and POP/IMAP option and Enable IMAP.
Scroll the screen and click on the Save Changes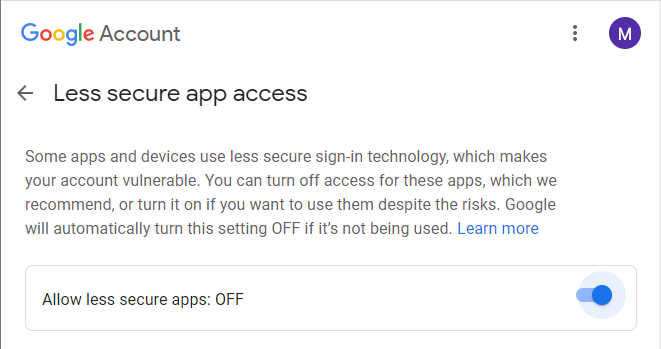 2. Download and Run the Suggested Software
Click on the Open tab and choose email account from the drop-down list to clear Gmail storage.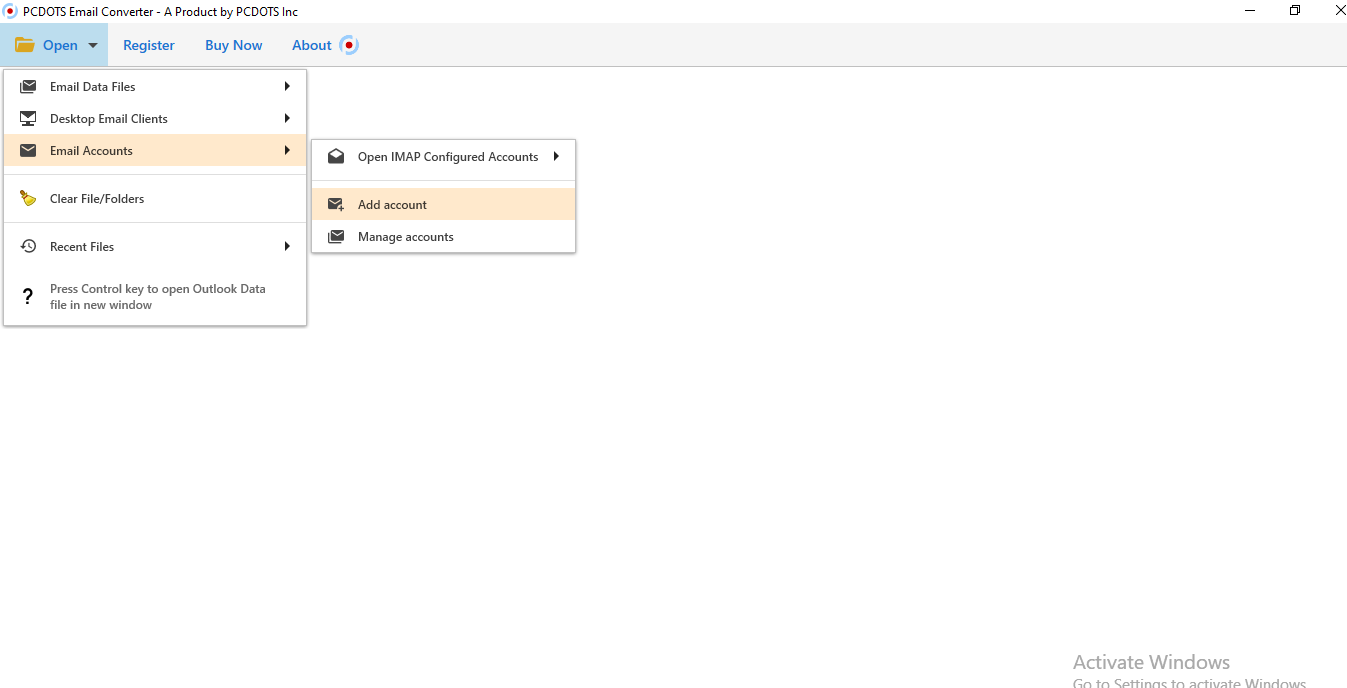 Thereafter, click on the Add account option and fill the credential detail of your Gmail account, click Add.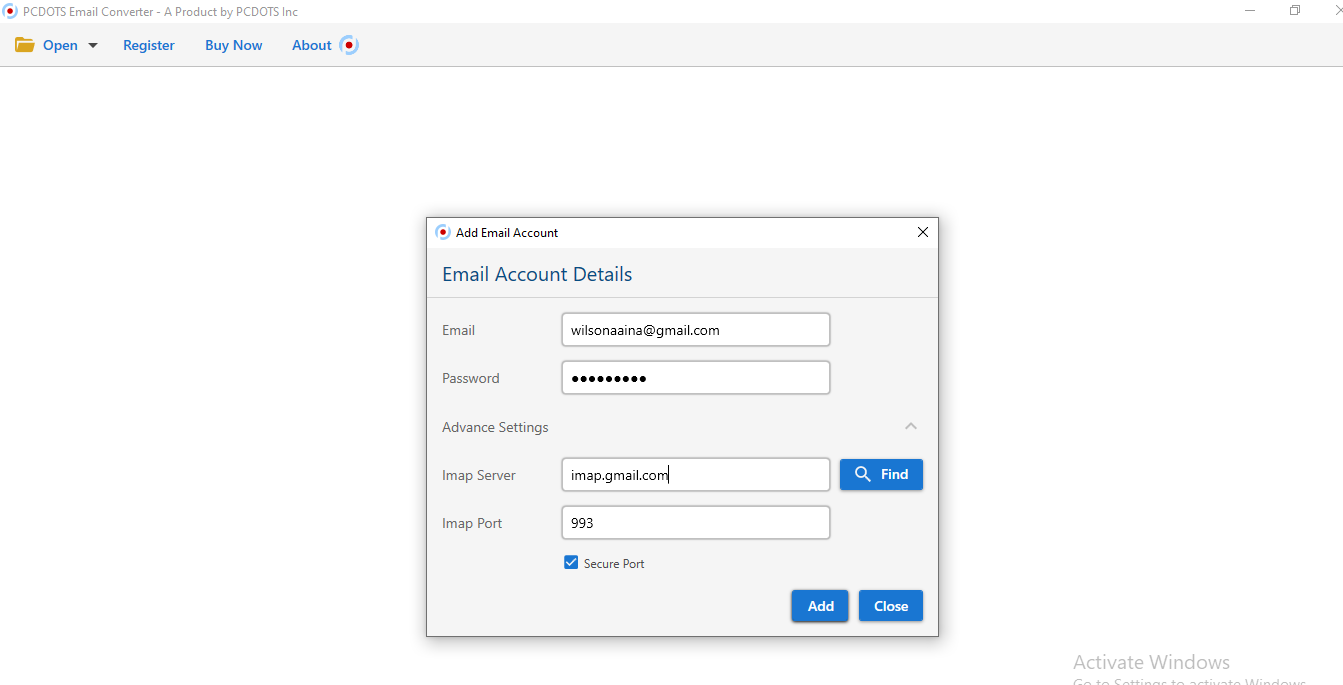 Now the software displays all your email folders to the software screen sequentially to fix gmail storage full issue.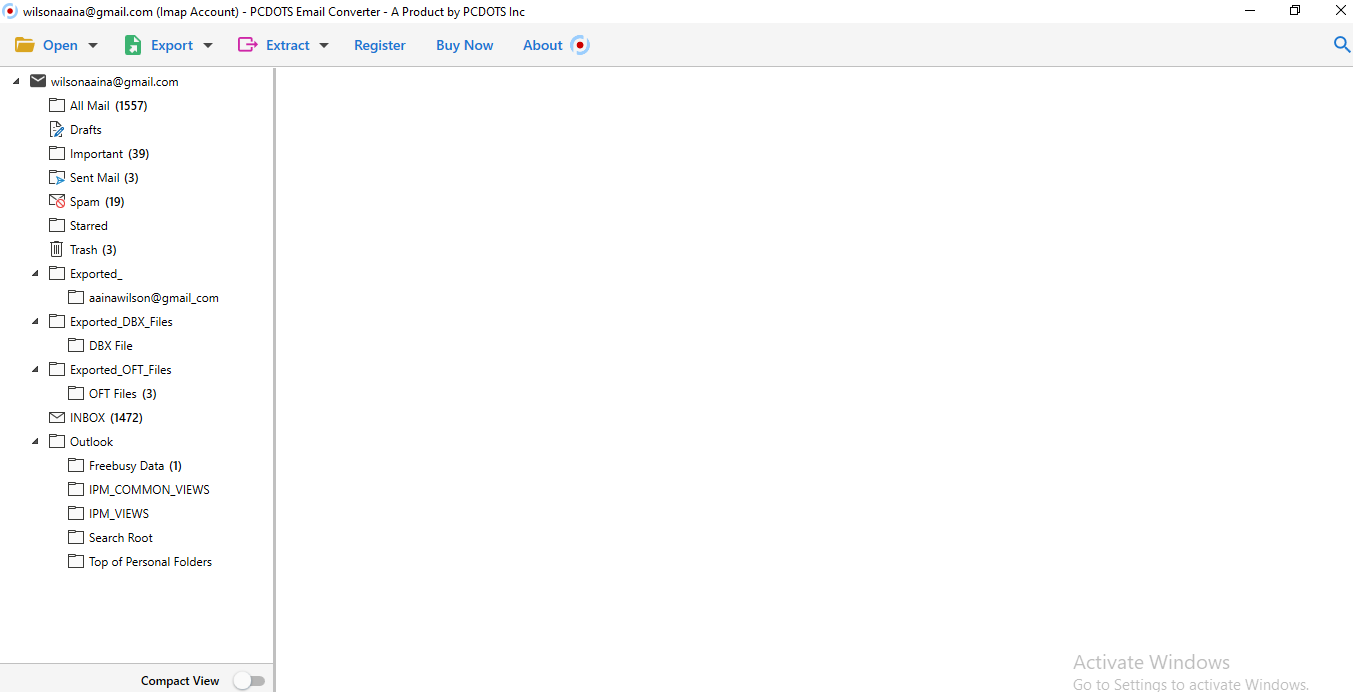 Click on the Extract option to save all email attachments separately.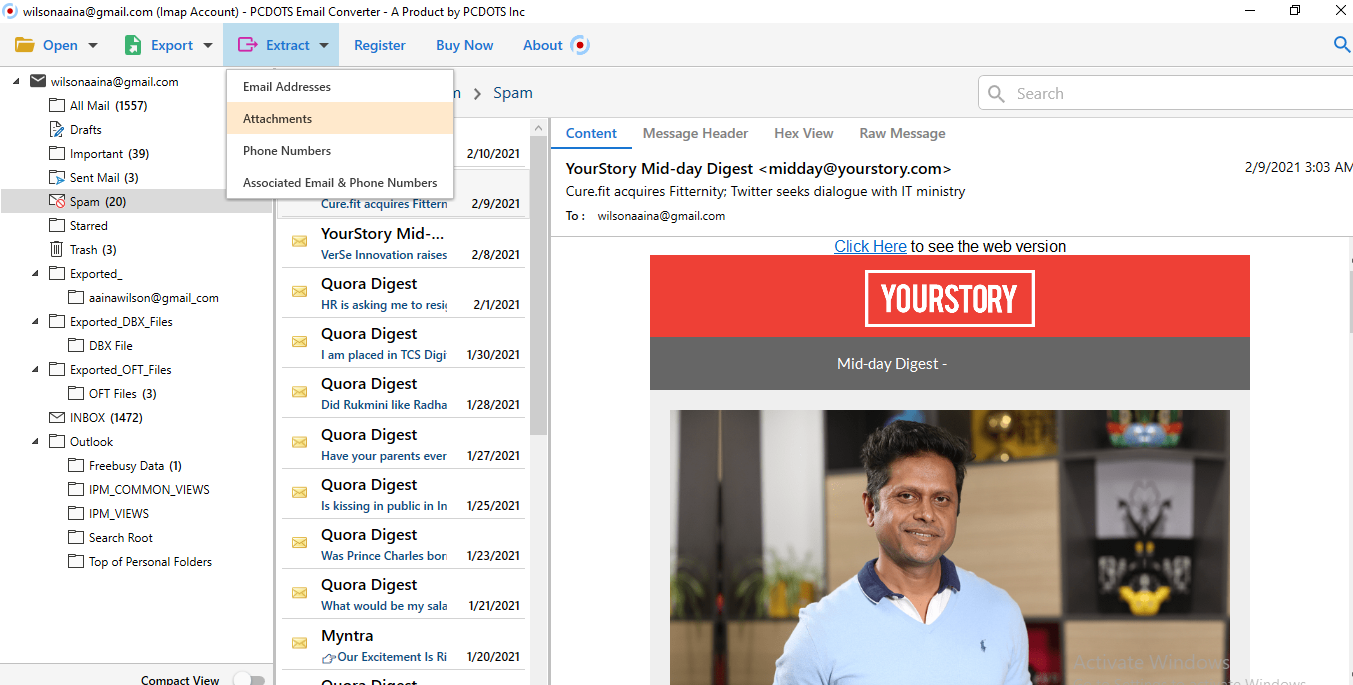 Choose Export option and select a file format from the drop-down list according to your requirement.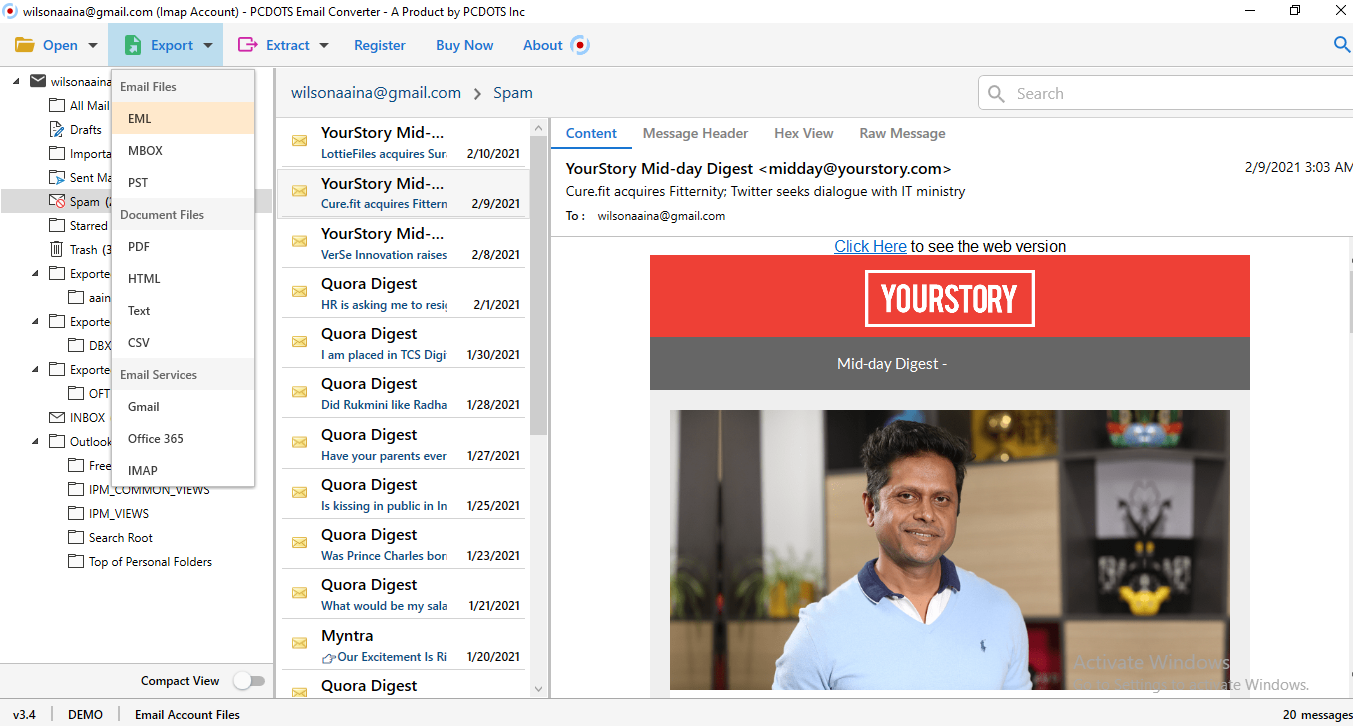 Now, Browse the destination location where you want to save the resultant file.
Choose File Naming option accordingly.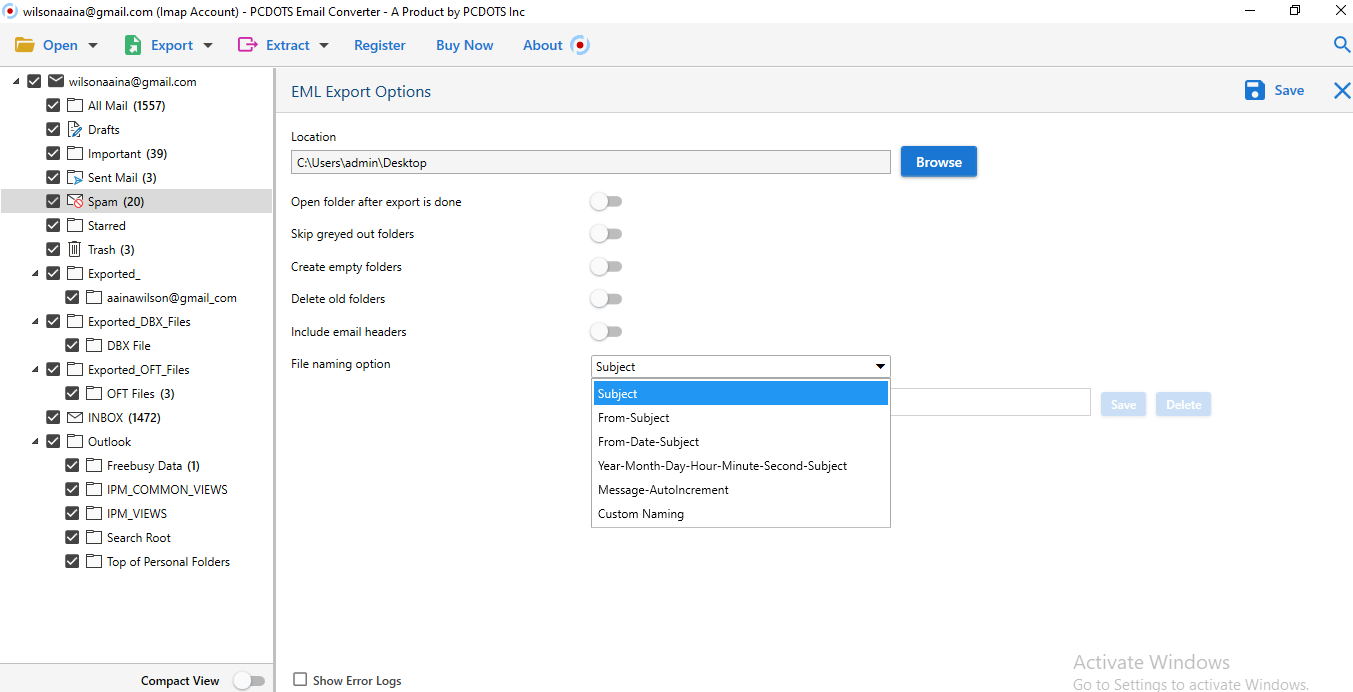 Finally, hit on the Save button to start the process.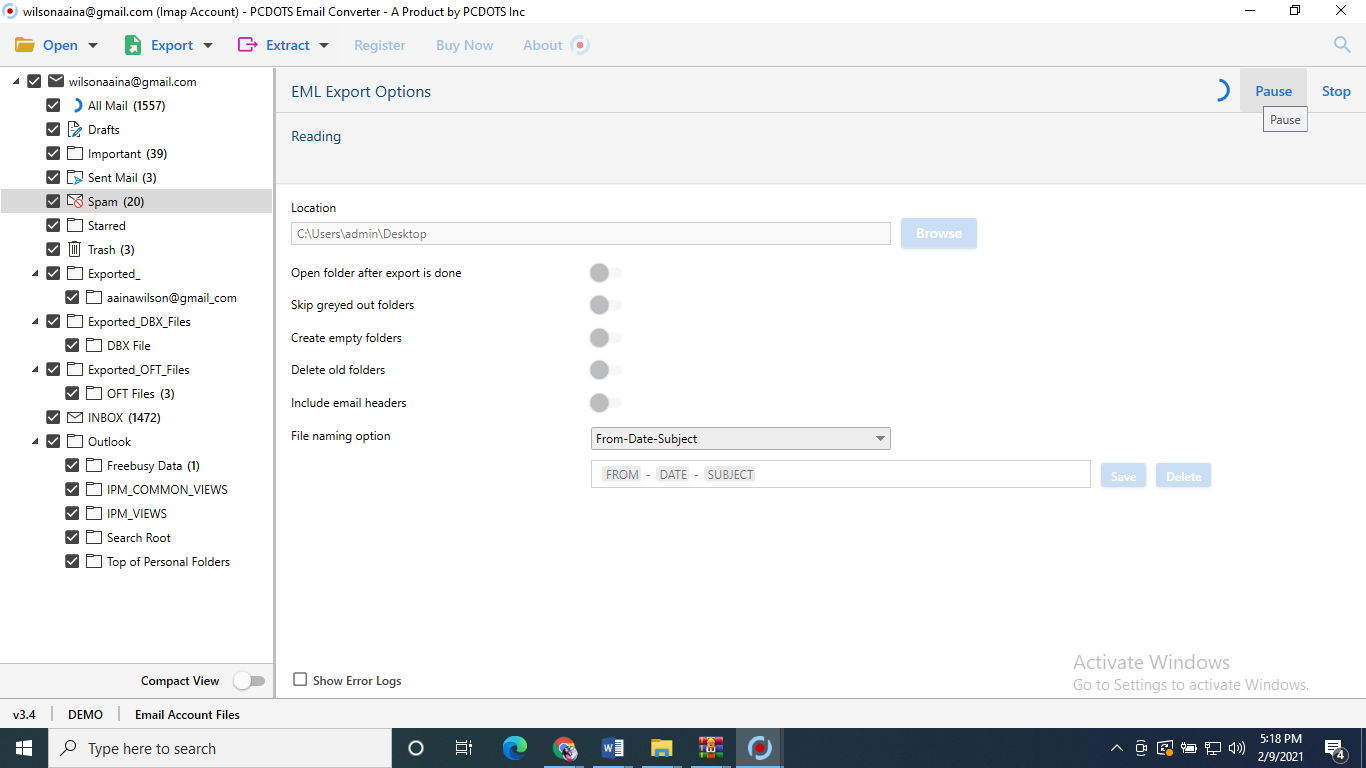 It will take few minutes and display a successfully converted prompt message into the software screen.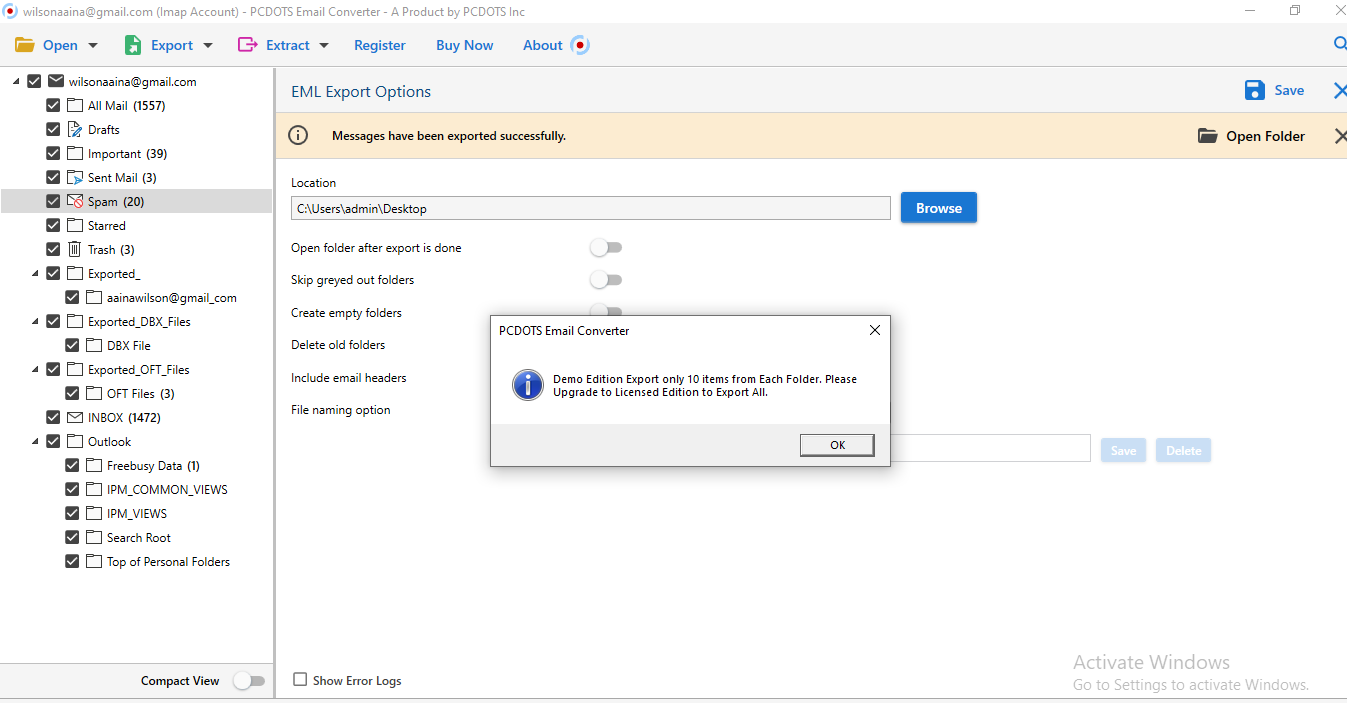 After the following above steps user can easily create a backup of their Gmail emails to the specific location. Thereafter you can freely clean-up up your Gmail without any extra efforts.
2. Delete Unnecessary Files, Emails, and Attachments
As we all know that, deletion of files is the best method to free u Gmail space. User needs to delete unnecessary email message, attachments, and photos. Remove all the unnecessary images and videos from Google photos to free the space. Also, create a backup of your photos before removing them. Follow the below steps to remove all unnecessary files from your Gmail account. Open your Google drive on your existing computer. Now, select the unwanted files and remove them one by one. Also, delete your largest email files from your Gmail account. For search the large files and old files, type "Larger: 5m," "Older_than:1y" in the search box.  Then, it will display all the large files to the screen.  Remove those files carefully. Once you're done then go to "Trash" folder and delete all the files permanently to fix the error. This will help you to resolve Gmail storage full issue.
3. Using Gmail Migration Method
It's quite tough to delete any of the email messages from Gmail account. So, If you don't want to lose any of your crucial email messages then, you can migrate them into another Gmail account. To migrate emails from one Gmail to another Gmail account, follow the below steps:
Create a new Gmail account.
Now, go to the settings of old Gmail account from which you want to migrate emails.
Now, click on "Forwarding and POP/IMAP" and enable POP for all mail.
Thereafter, choose "delete Gmail's copy" from the drop-down list.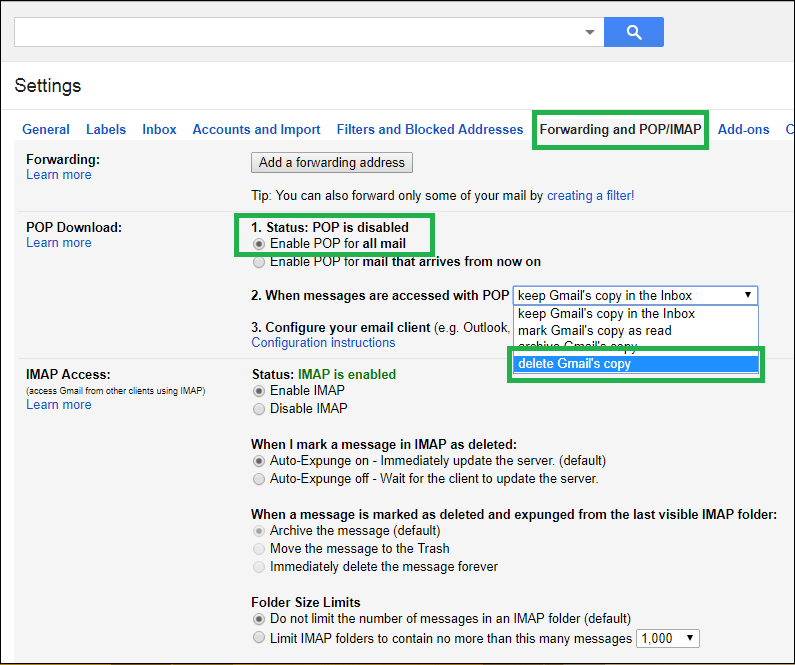 Now, open the new Gmail account and go to settings.
Select "Accounts and Import" from the upper menu.
Click "Import mail and contacts" in the menu.
Click import mail and contacts from the menu option.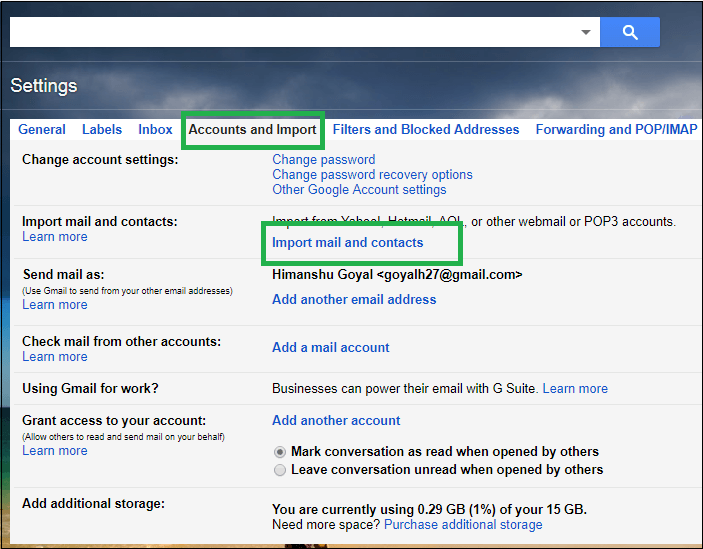 Now a pop-up window will appear on your screen.
Enter the email from which you want to import the email files and click Continue.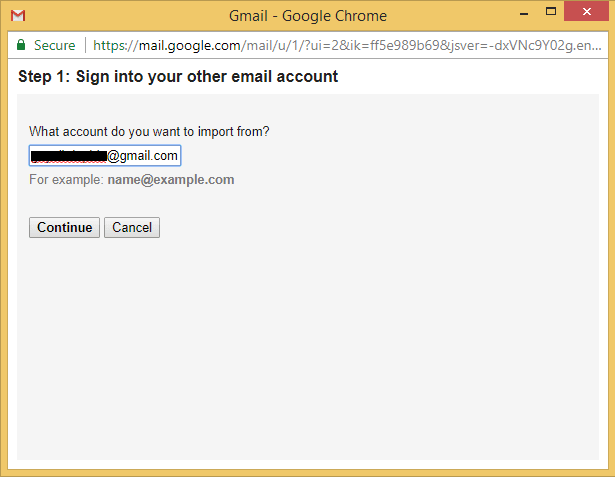 After that click on the "Allow" button and choose the import options and click the "Start Import" button.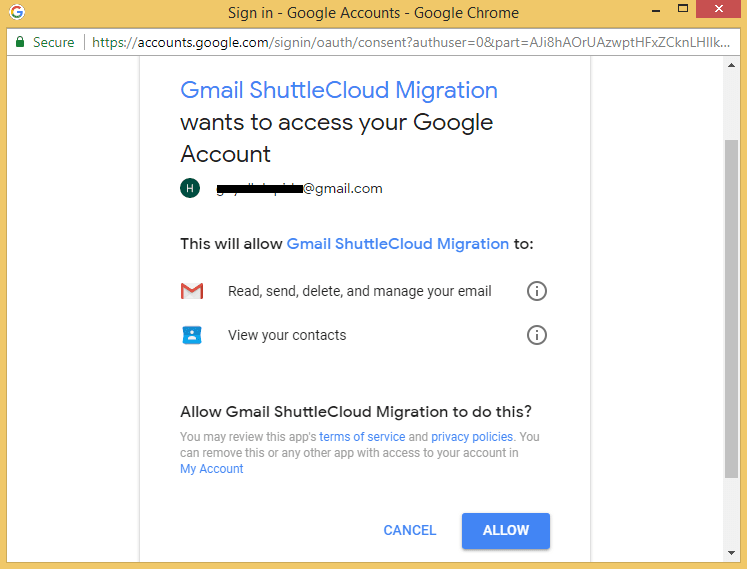 Choose import option to import emails from old Gmail account.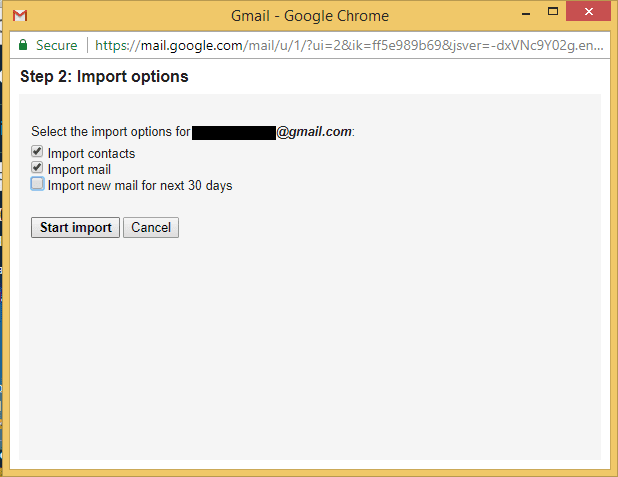 Now, wait for the successful message, once the migration is done, you are able to see all old email in the new account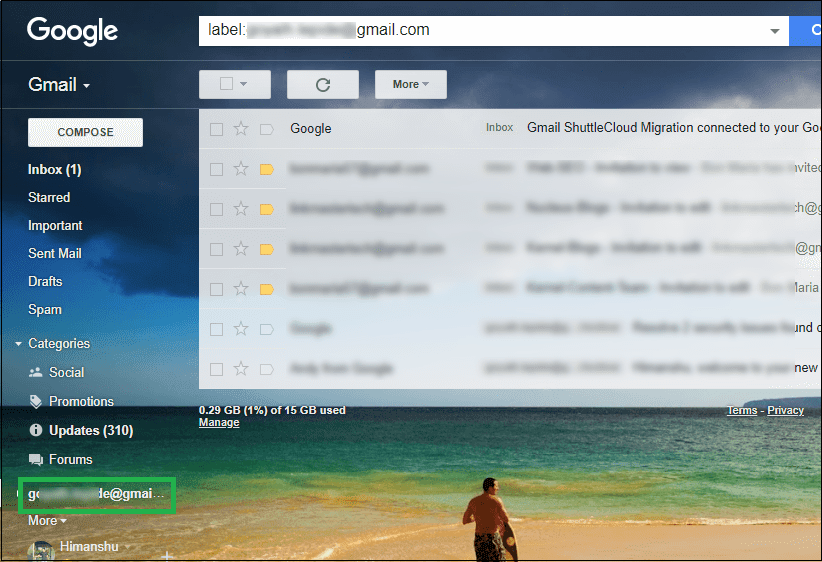 One major issue with this method is that, it takes huge times to transfer all emails to your new Gmail account. It's a lengthy and time taking process. So we would like to suggest the automated approach that describes in the next section for Gmail storage full error.
Commonly Asked Questions
Que 1 – Can I extract email attachments from Gmail in batch mode?
Ans – Yes, of course, it is specially developed to get all email attachments in bulk mode from Gmail account.
Que 2 – Can I export email attachments from multiple Gmail accounts?
Ans – Yes, first export mailbox files from several Gmail accounts and after that upload batch mailbox files in the software for extracting attachments .
Que 3 – Can I install the mentioned software on Windows 10 OS?
Ans – Yes, It can be installed on all latest as well as previous Windows OS.
Final Words
If you want to free up Gmail space and want to know "how to extract all email attachments from Gmail then download its free trial version. Demo edition allows recovering email attachments from Gmail and previewing them in the software interface. But, it permits to store only 10 emails attachments from each mailbox file. Users can first evaluate the software efficiency and then go with the licensed version. In this write-up we will discuss three approaches to resolve Gmail storage full error.