How to Extract Attachments from Evolution Easily?
Extracting Attachments is one of the most difficult tasks nowadays Because we have a lot of attachments saved in our mail account and obviously, they are so much important for all of us. Also, it is a complicated task to extract Attachments from Email Client Evolution.
So Guys!! If you are also finding a way to extract Attachments from Email Client Evolution like I was finding before then my friend you are at the right place. In this article, we will discuss how can we Extract Attachments from Evolution through specialized software PCDOTS MBOX Converter. We are using MBOX Converter Software because Evolution Email Client supports .mbox file format and it is easy for us to extract if we use this Converter.
Download and Install PCDOTS MBOX Converter which will help us to extract Attachments using .mbox file. Also, we can easily extract multiple attachments at one time without the need of any other person. It is easy and flexible to use and can help all the users whether from a technical or non-technical background. You can use the free downloaded version and this software supports all versions of Windows OS.

How to Extract?
We are using the Software because the software is supporting MBOX file format and can help users to extract multiple attachments with a single attempt.
Go to Evolution–>File Menu and export Mailbox into .mbox file format and store it in your system.

Run the PCDOTS MBOX Converter and Click on the Open Menu.

Upload the .mbox file by choosing file option.

Once uploaded, it will automatically auto-detect the mails and will displayed them on the screen.

Select the needed mails and click on Extract –>Attachments.
Then, Enter the location in the browse box and Save it.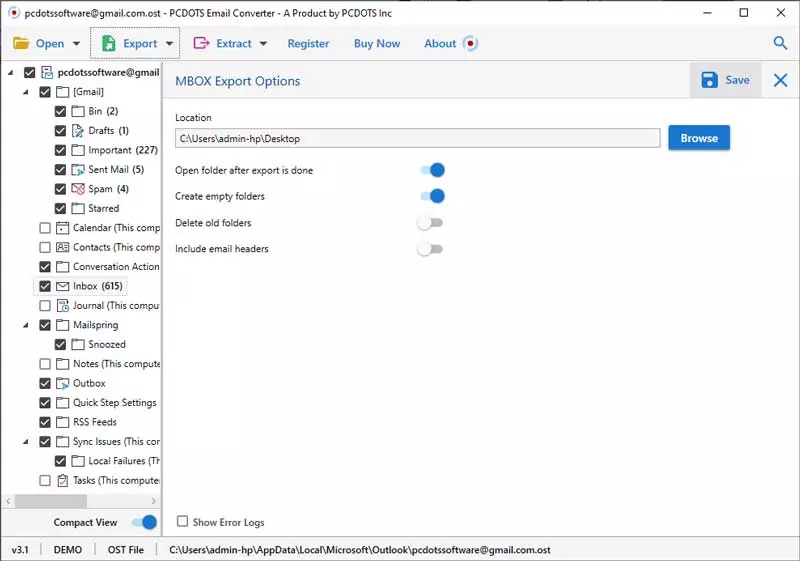 The extraction process will be done in a couple of minutes and you will see a successful prompted message.
Features of PCDOTS MBOX Converter
The software will work according to the users choice. The user can either select the file or also select the folder.
User can extract multiple Evolution mail attachments at one time and save the user's valuable time and efforts.
Flexible to use and can be used by all the Internet users.
Will auto-detect all the Evolution emails from the file and load them onto the screen.
Result
It is a complicated task to extract a bulk of attachments at one time and if we do it manually one by one then, it will take most of the time and effort. So, what's better is to find Software that will help us throughout the process and will make our work easier. The PCDOTS MBOX Converter is a specialized tool that will help to extract the attachments and other email elements also. Consequently, this is one of the best Software to extract Attachments from Evolution.